As the weather turns cool, there is an autumn and winter just need the occurrence probability of a single product rises sharply, not only keep warm, but also a lot of pursuit from the "head" beauty to the feet of stars, fashion bloggers out of the street essential fashion single article.I'm sure you've guessed what it is?Yes, a hat.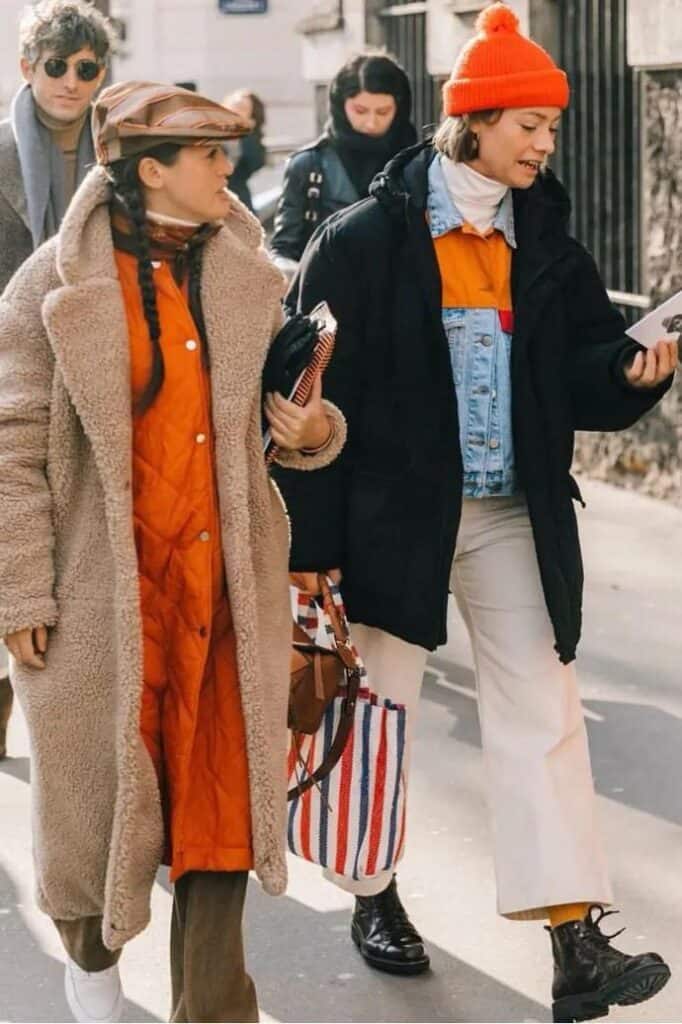 Don't look down upon the power of this single hat, after all, the more simple to act the role of a real test of a person's ability to match.While keeping warm, it can also add shape to your whole body, making your street wear more stylish.So, how should the hat sheet of autumn winter series be tasted tie-in and choice?Today, I will tell you about some common hat collocation.
Beret
Did you all watch Netflix's new show Emily in Paris a while ago?Along with the story of an American girl's arrival in Paris, the beret, which came from her native France and later became popular on the streets of the United States, is again in vogue, not surprisingly.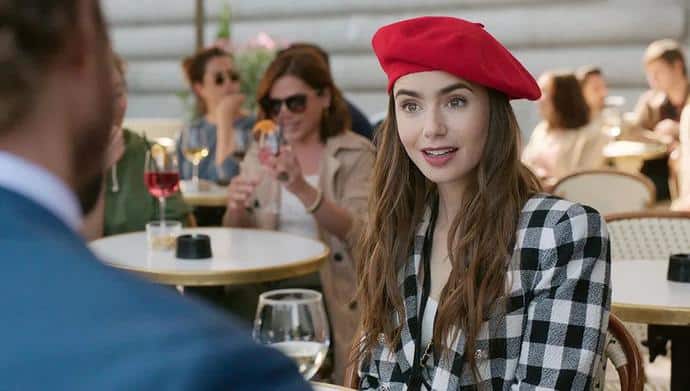 Emily, played by Lily Colins, wears a lot of sweet princess style, and hats also play a key role in the choice of accessories.This black-and-white checkered suit, for example, was embellished with a red beret, the only eye-catching piece of the ensemble that was bright without being flashy.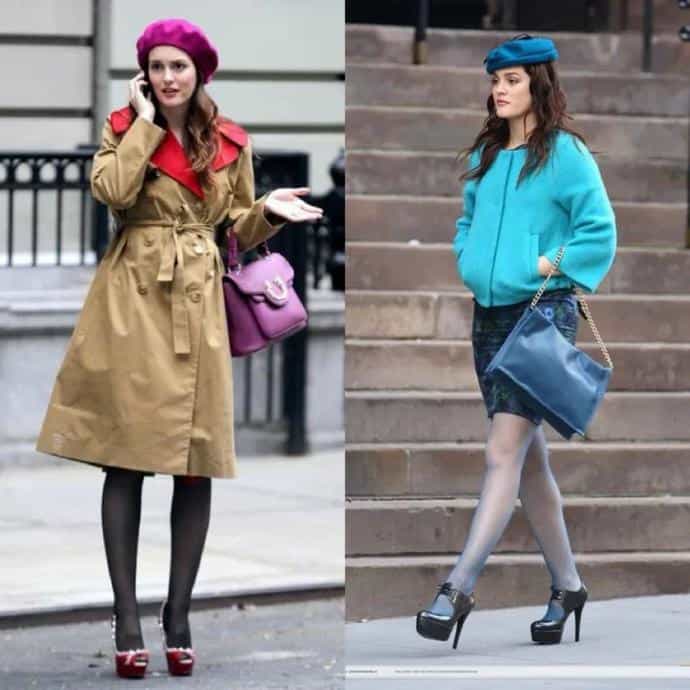 Speaking of the colorful berets, they were the basis of Gossip Girl's Queen B over a decade ago.The bold use of expensive Queen B in dress color always brightens people at the moment.She especially likes to wear her highly saturated berets with her expensive…Brand name suits.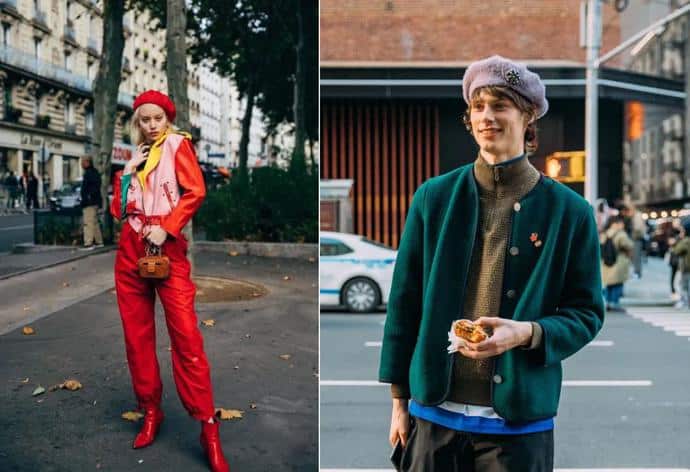 Bold berets can be difficult to pull off and can be a disaster scene, but there is a certain skill in matching them.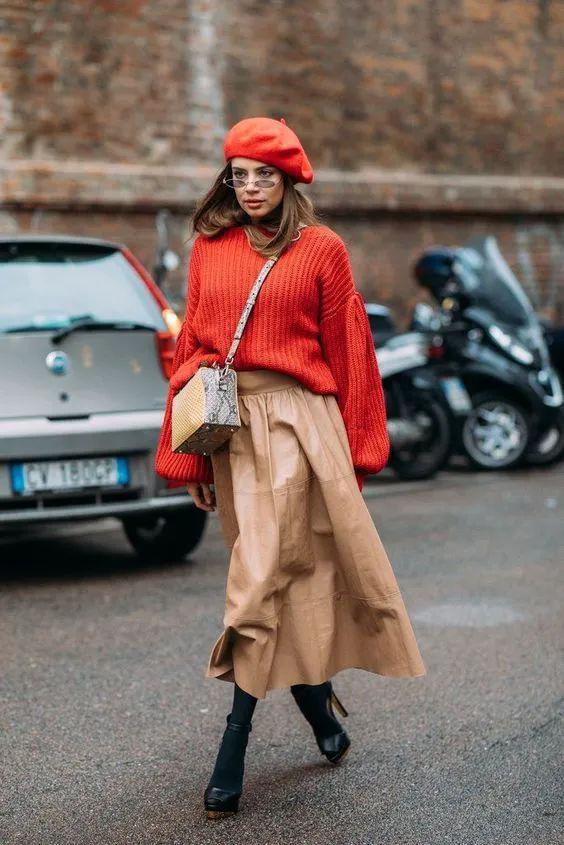 For example, a bright orange sweater paired with a khaki leather dress can be paired with a beret in the same shade of orange to create a retro and elegant look.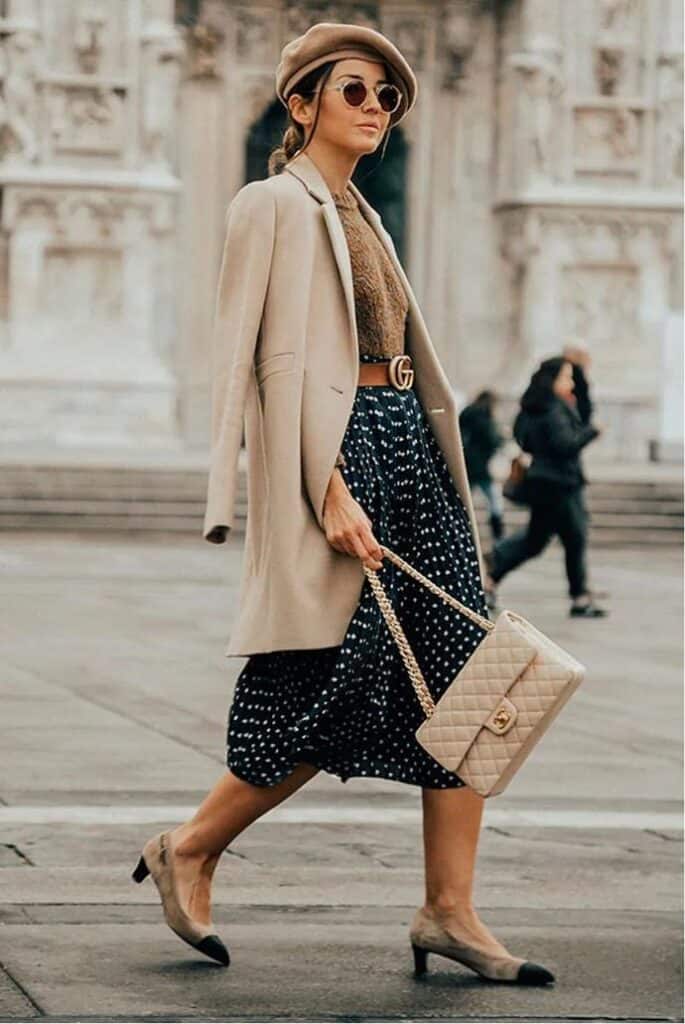 Not yet?One more!With a creamie coat, coffee sweater, black polka dot dress and a khaki beret that matches the overall look, doesn't it make you instantly look stylish and feminine?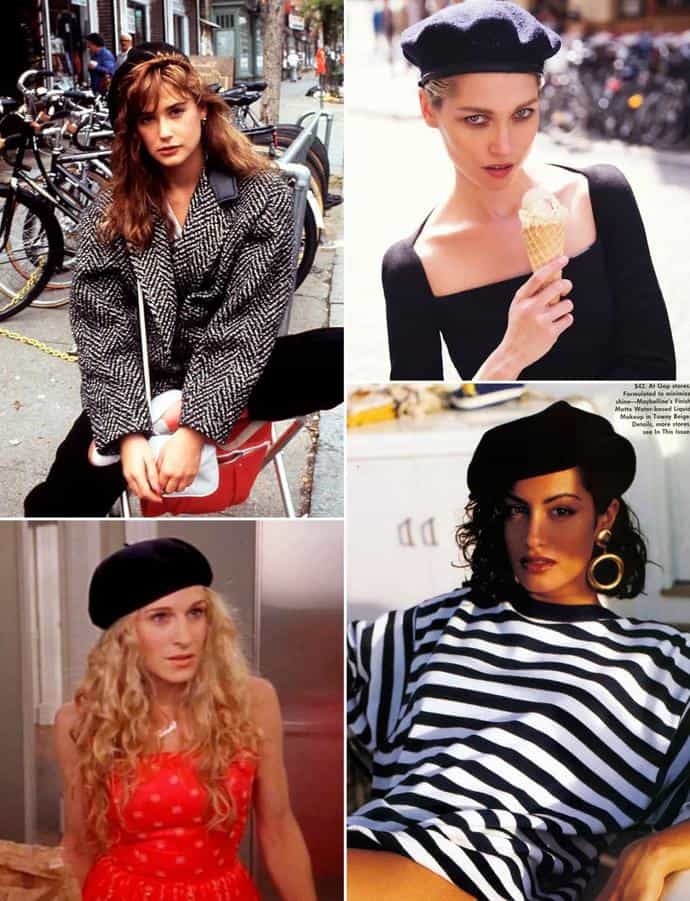 Do not think that berets can only match the temperament of the socialite style, as early as in the 90's fashion magazine, fashion Icon people first do the example, casual cool girl can also be assured to choose berets to do the match.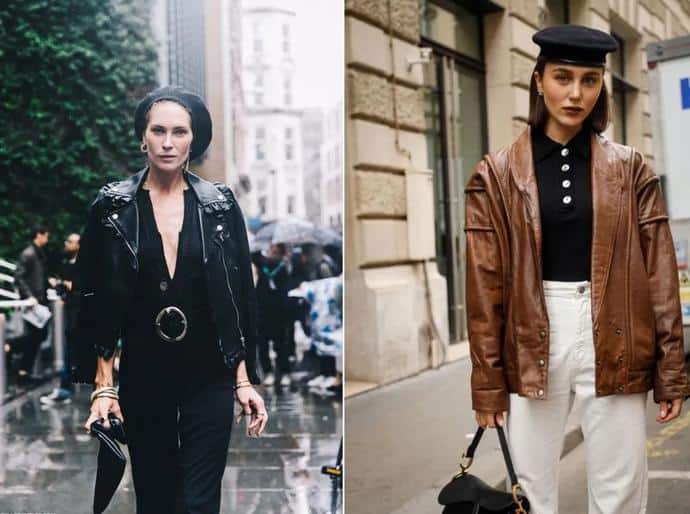 Black or brown leather coat + simple interior, in the felt texture of black beret do match, add a bit of delicacy to the casual street style dress, the whole person is not instantly popular?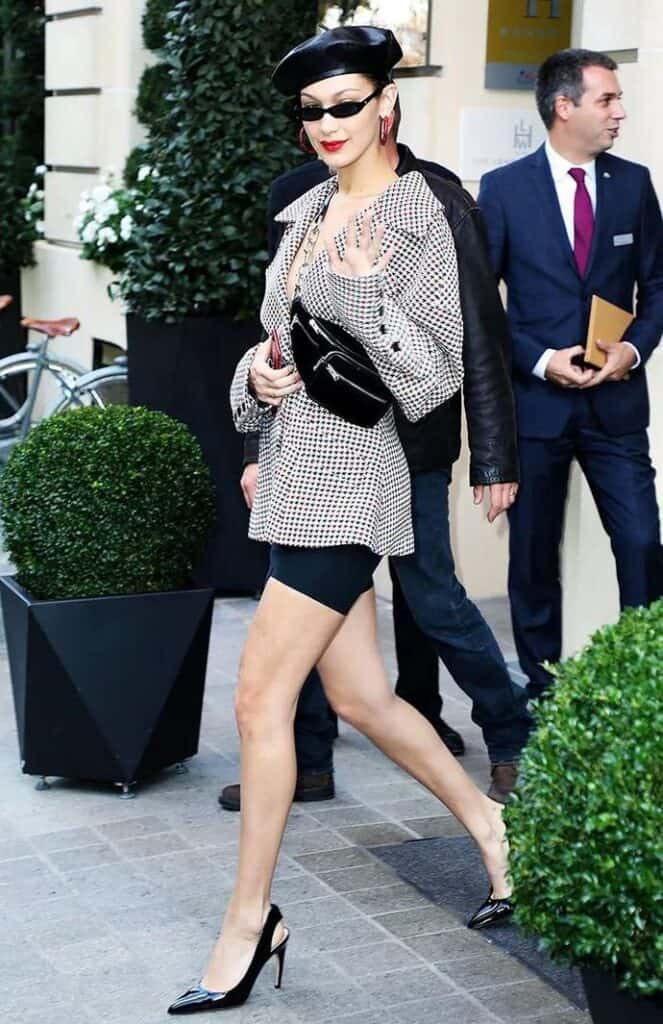 If there were any tips for wearing a beret, it would be to try to keep it in a fuller, rounded shape (like the one Bella wears out on the street!).It's easier to wear and makes up for the flat back of our Asian girls' heads.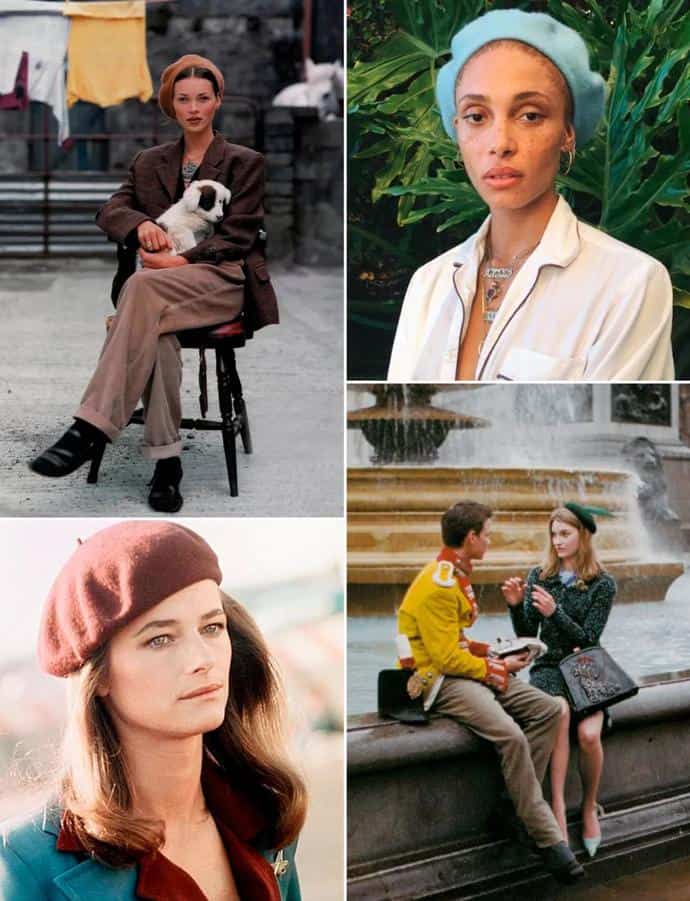 And then there's…Wear it diagonally to make you look easy and beautiful!
Doug cap
Everyone has beanie hats in the fall and winter, right?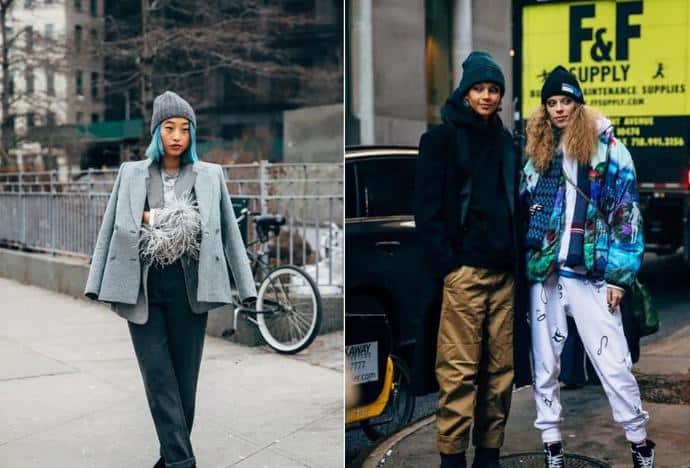 As the necessary sheet that autumn winter season keeps warm keep out cold to taste (incidentally left out the trouble that needs to often wash one's hair), the fashionable plasticity of bean bean cap is absolute exceed what you imagine!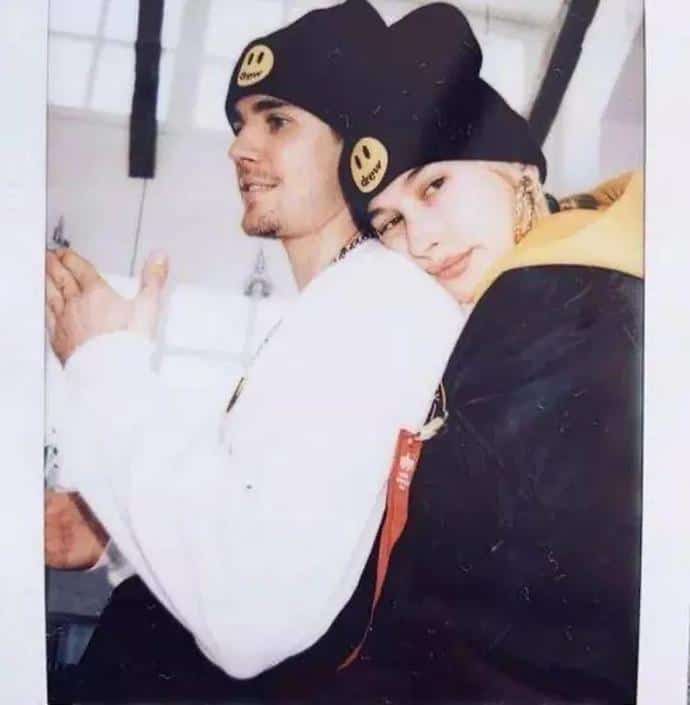 Take the Biebs for example. The hoodies and Drew House beanie hats are one of the couple's most frequently spotted ensemblers!(Perhaps an advertisement for your popular logo?I don't care, it's good looking!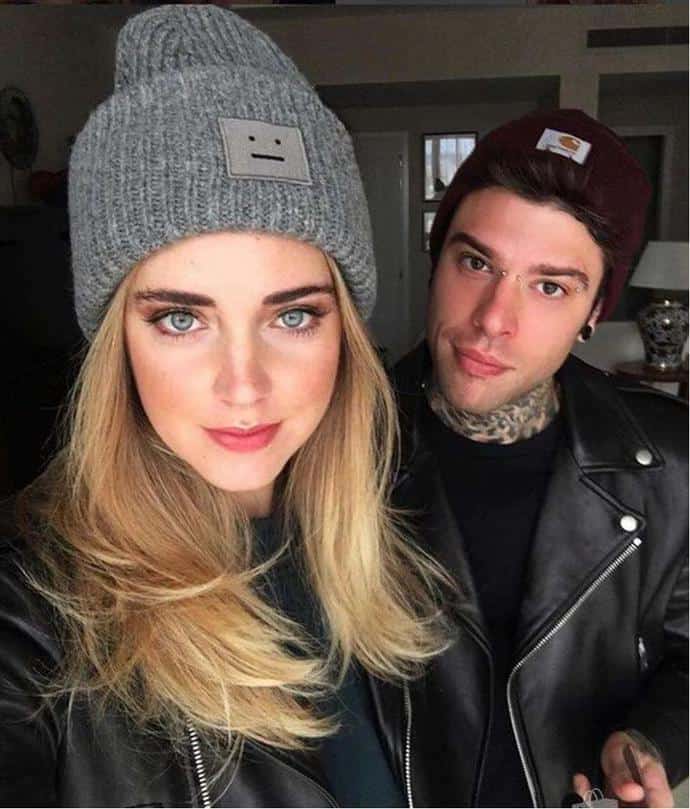 For the Acne Studios beanie hat, which is still popular today, black, grey or white is a safe brand that can't go wrong.This kind of wool hat is a slightly conical hat shaped design, the top of the hat has a small cap tip in the visual will make the whole person more straight and straight.(Especially friendly to small girls!)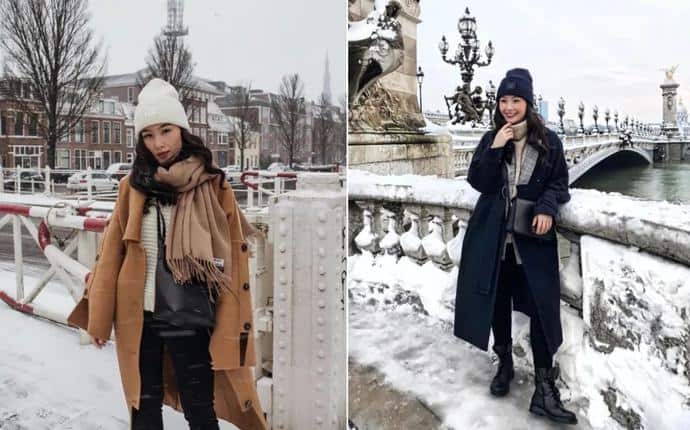 Tlnique, a 158cm Asian blogger, is a fan of these hats, which can be worn with a short padded coat or trench coat to create a casual yet street style.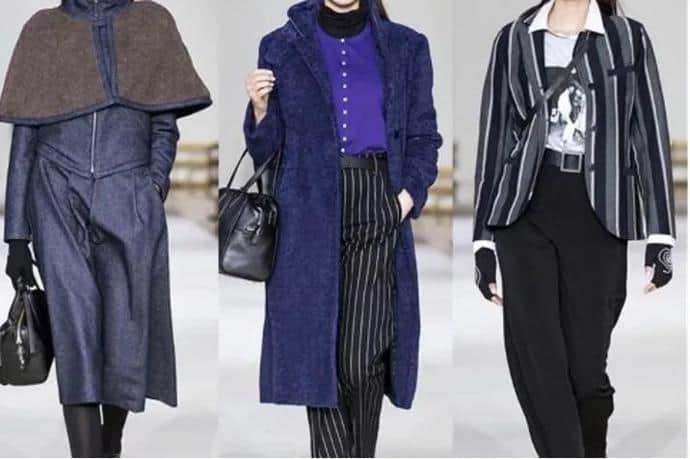 Autumn and winter give people the impression is always cold and gray.One is because of wearing thick, wearing the shape will have a sense of weight, and two is that many people like to wear black, white, gray, brown and other darker colors in autumn.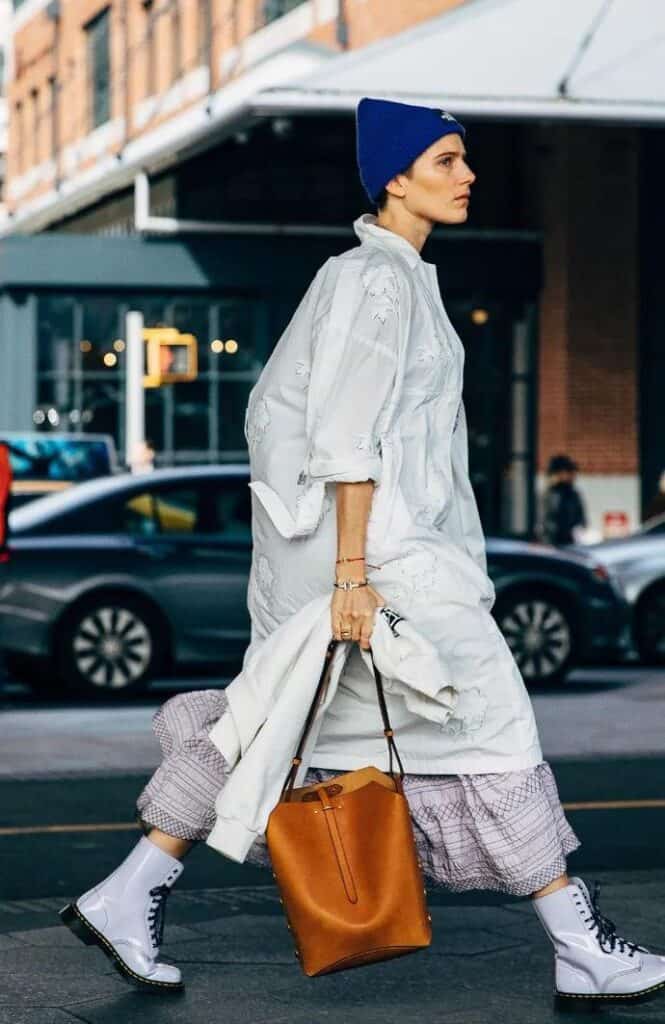 However, it can make all the difference if you pair it with a colorful beanie hat to add a little sparkler to your bland look for autumn and winter.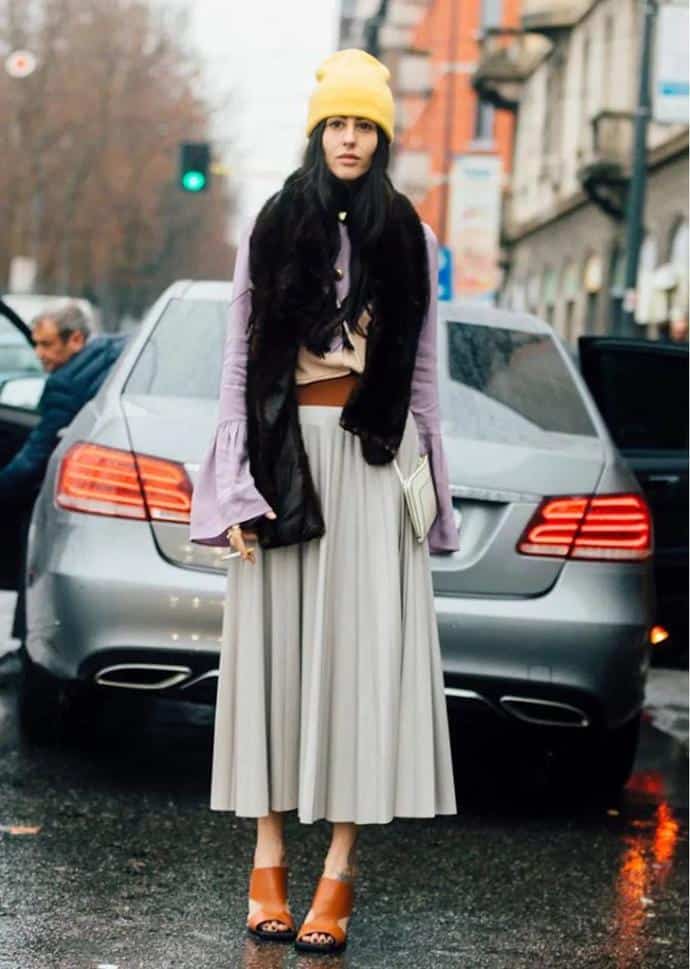 If you're wearing cool colors for the fall and winter, try a beanie hat in a bright color, which will instantly add a touch of life to your lackluster look and brighten your mood.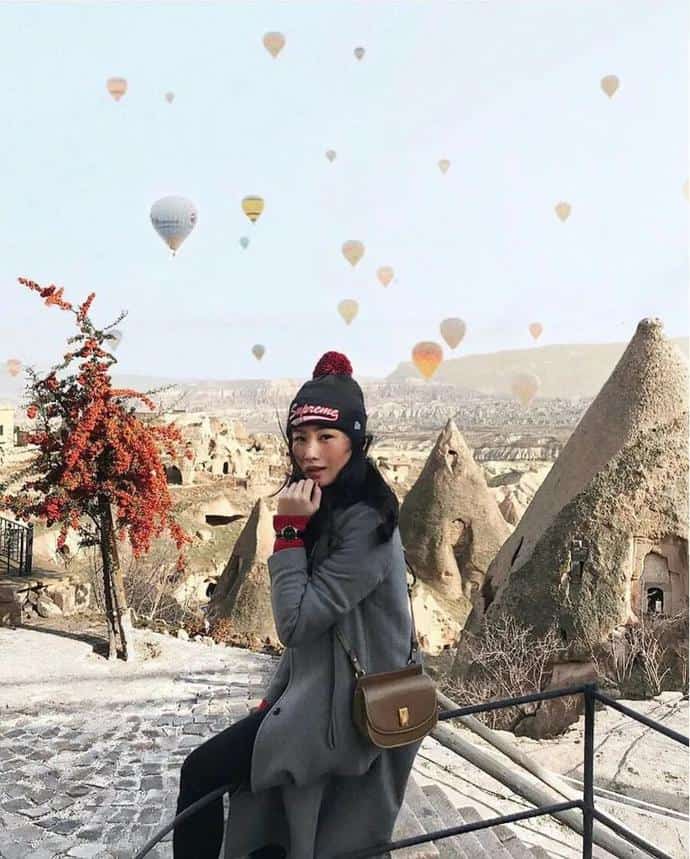 For a more cute look, pair it with a wool ball cap or a cat ear cap for a soft, waxy look.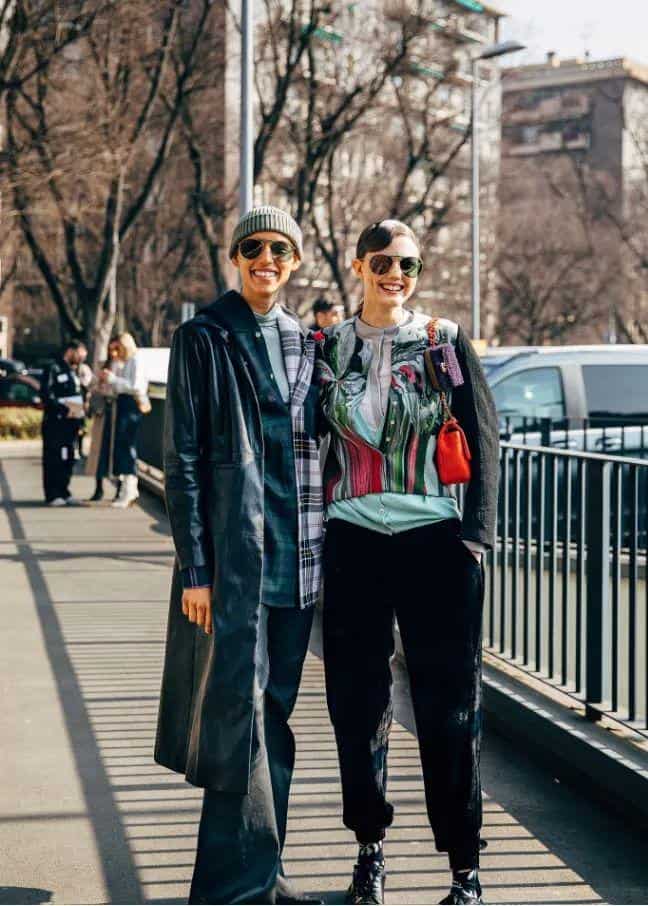 Round hat is the most personality in the bean hat on behalf of the type, is the winter many tide female tide out of the street favorite street single product.
Of course, girls can also match the black motorcycle suit or suit. The hat is slightly pulled down to cover the ears, which is stylish and warm. It has a neutral cool girl's visual sense.
The fisherman hat
Originally a synonym for outdoor casual style, the fisherman's hat has been favored by top brands in recent years.Such as LV, Prada, Burberry have launched the fisherman hat this single product.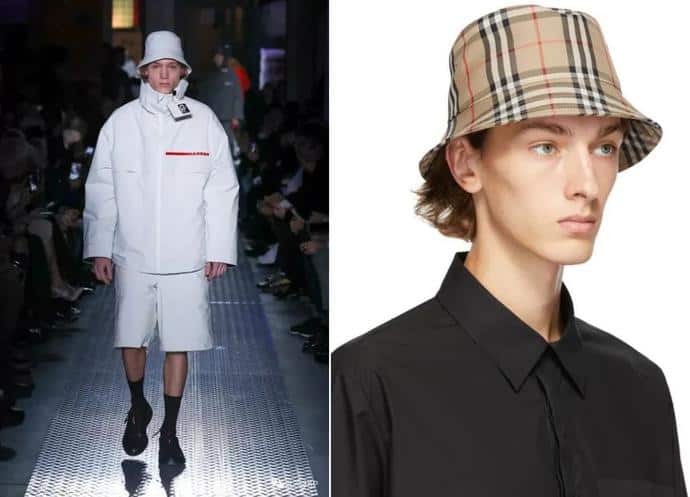 In the latest season of Prada Linea Rossa FW2020, we can also see the fisherman's hat as a heavyweight item.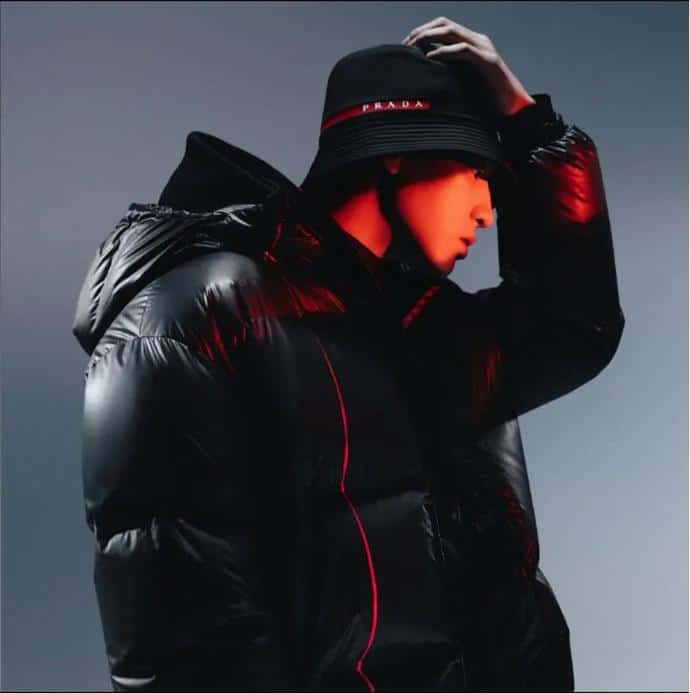 LV, Prada and other brands of such hats, the brim is long and narrow, because the shape is similar to a bucket, so it is also called bucket hats.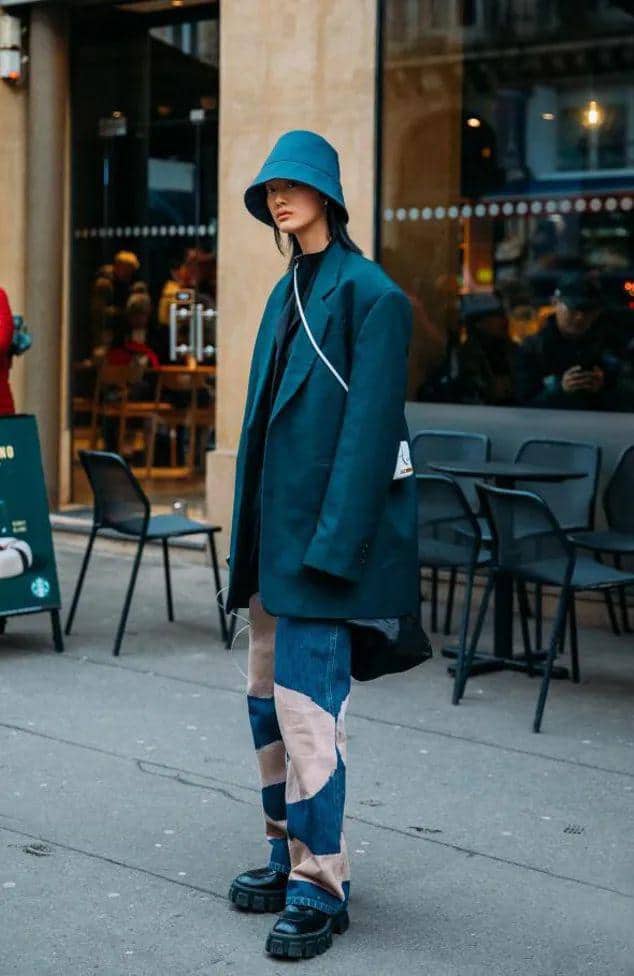 Used to match the loose silhouette suit, can add a casual street sense to the overall Look.A long brim can also flatter the shape of the face, especially for girls with a square face shape.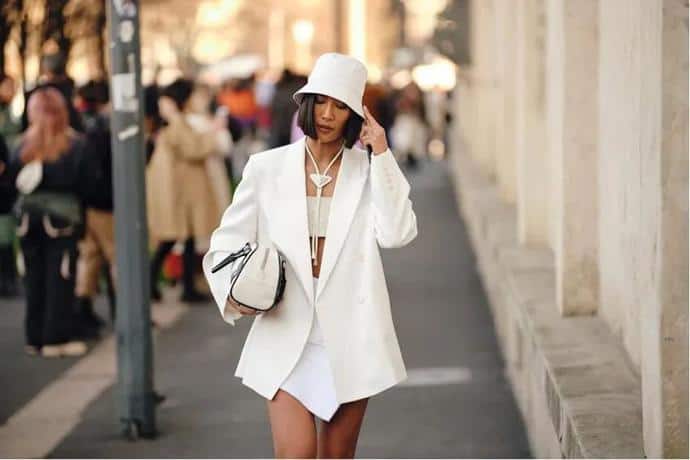 Of course, a sharp blazer will work too!Formal + leisure mix take wind, look momentum feeling is dye-in-the-wood.If you really don't know how to choose the color, it is recommended to refer to the previous color matching method!Choose a hat that matches the color of your outfit.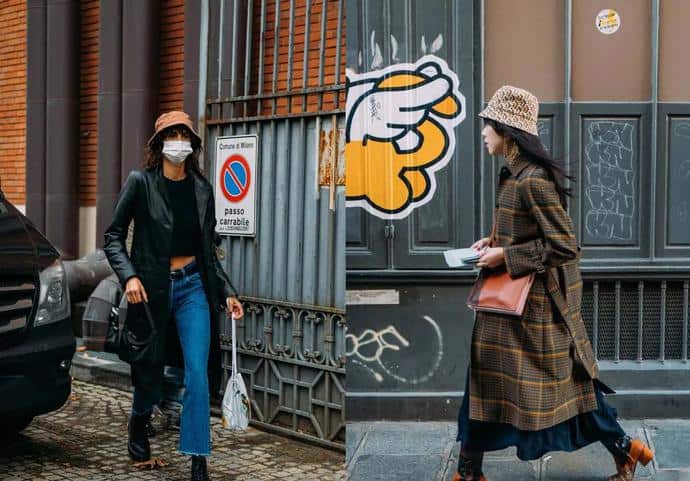 A wide-brimmed, flat-topped fisherman's hat is also the most common style.Choose a stiffer material, or a floppy brim will make you look a little sloppy.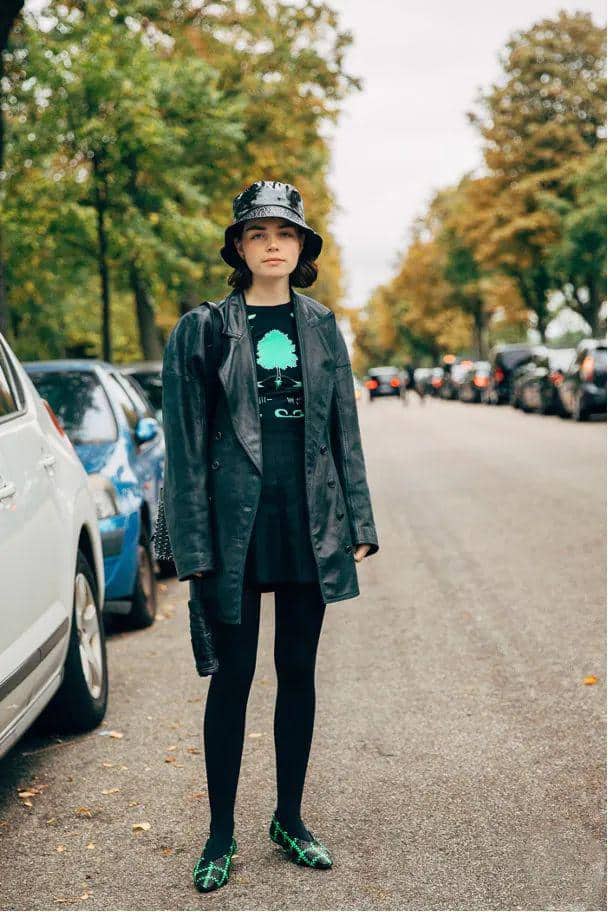 A black leather coat is paired with a fisherman's hat of the same color and patent-leather texture to make the overall effect more harmonious.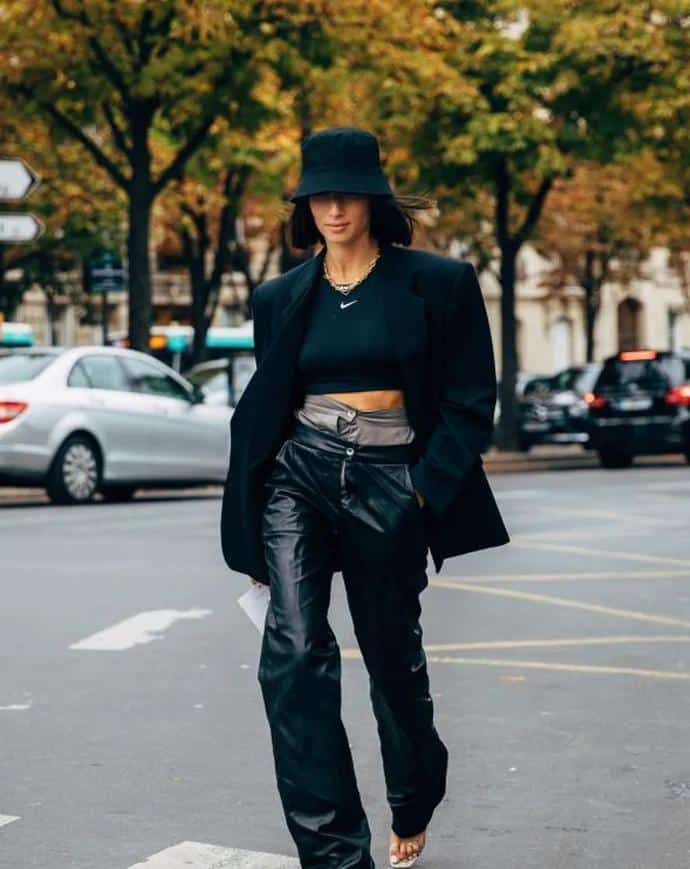 Finally, for girls with longer faces, try to choose a fisherman's hat with a longer brim.Not only can it shade the sun (the ultraviolet rays are very strong in autumn and winter!)It will also visually cover the upper part of your face for a more coordinated look.